Tuesday, 11 December 2018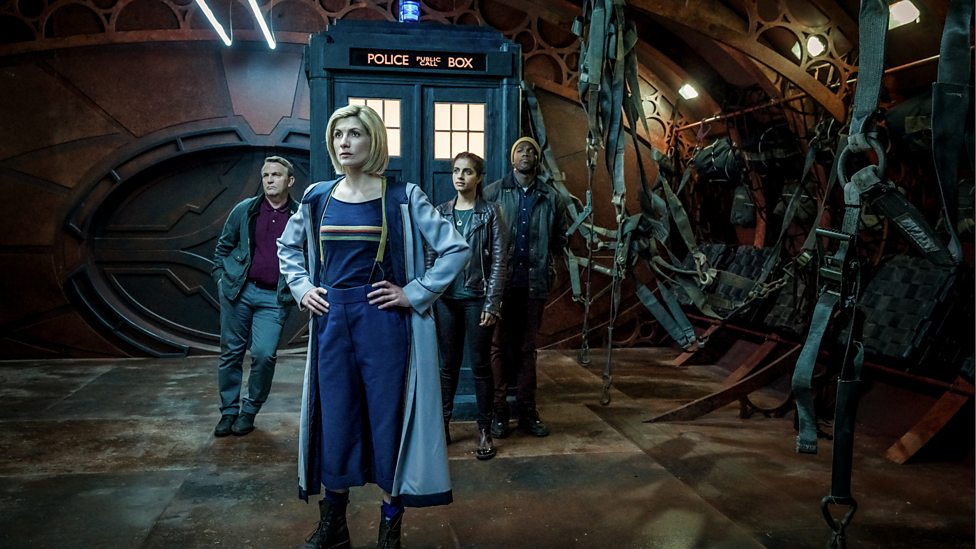 Earlier this week, I started thinking about how Series 11 had been going, and realised that, though some early episodes were decidedly mediocre, we hadn't had a completely awful episode.
Jinxed it, didn't I?
Let's start with what I liked:
•
"Yippee ki-yay, robots!"
•
The René Magritte-esque exterior of the building
And then they got inside it, and it looked like a Welsh power station.
The Battle of Ranskoor Av Kolos (I'm going to start spelling that wrong in a bit) is a shambles of an episode, executed with the sub-Stormtrooper precision of the robots who shoot each other in a scene shockingly on par with the barely first draft quality of this entire episode's illogic. Everything makes you ask: why? Why would you set up the planet's mind-altering field and then have it amount to giving the Doctor a bit of a headache? Why is it relevant that 3407 years have passed when all of this could have been achieved in six months? Why do they keep putting things on their faces this series?
If there's anything that comes close to working here, it's Graham's desire for revenge against Tim Shaw. There is an idea in there for a way to close his character arc about grieving. But the episode almost completely avoids drawing any conflict out of this. The Doctor considers stopping him, then... just doesn't. Graham gets the chance to kill Tim, then... just doesn't. It's all a load of nothing.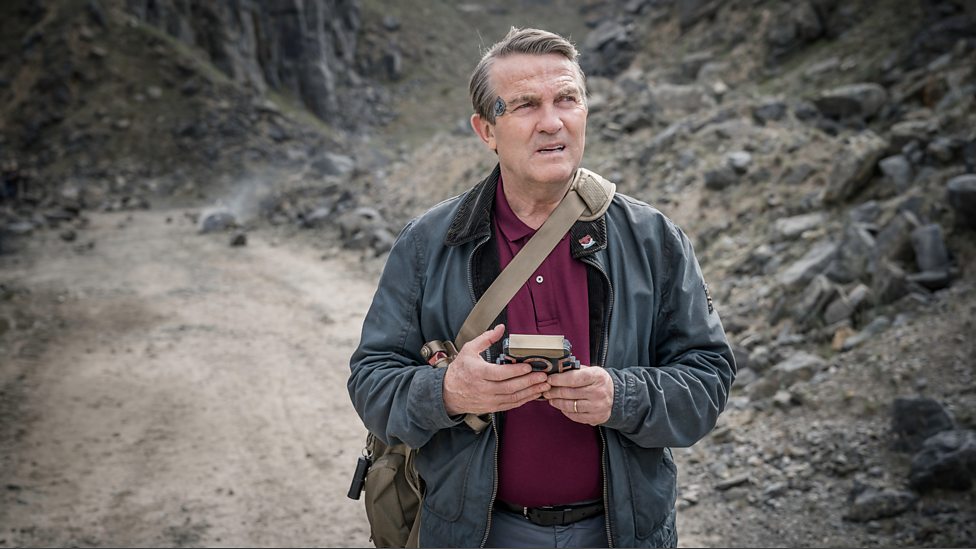 'Nothing' is also a fair description of the amount of development Ryan, Yaz or the Doctor get in The Wandering Around of Ranskoor Av Kolos, and of the depth of Mark Addy's character, who might as well have remembered his name as Commander Exposition. A better script could have done something interesting with the Ux, exploring them as religious fanatics manipulated into extremism, but again this episode can't even begin to do anything interesting because it doesn't get past the level of basic competence; it's utterly baffling that they start worshipping Tim so quickly and then, after 3407 years, are persuaded to stop so easily.
Perhaps on a side note, something that's been irritating me this series is how many alien races are identical to humans, or in the Ux's case, humans with squiggles on their faces, as if prosthetics haven't moved on since the first few seasons of Star Trek: The Next Generation. It makes the universe a lot less exciting.
Meanwhile, Tim Shaw has been stripped of all the cultural specificity he had in The Woman Who Fell to Earth in favour of being a cape-swishing supervillain screaming for revenge. He worked quite well in that first episode, but doesn't have the gravitas to be a finale big bad. Compare the incredible appearance of the Dalek army in Bad Wolf or Missy's reveal in Dark Water to the complete shrug that is the return of Tim, which boldly assumes everyone will recognise his generically evil voice and mask (surely what we remember about him was the face of teeth, but no, we get the mask).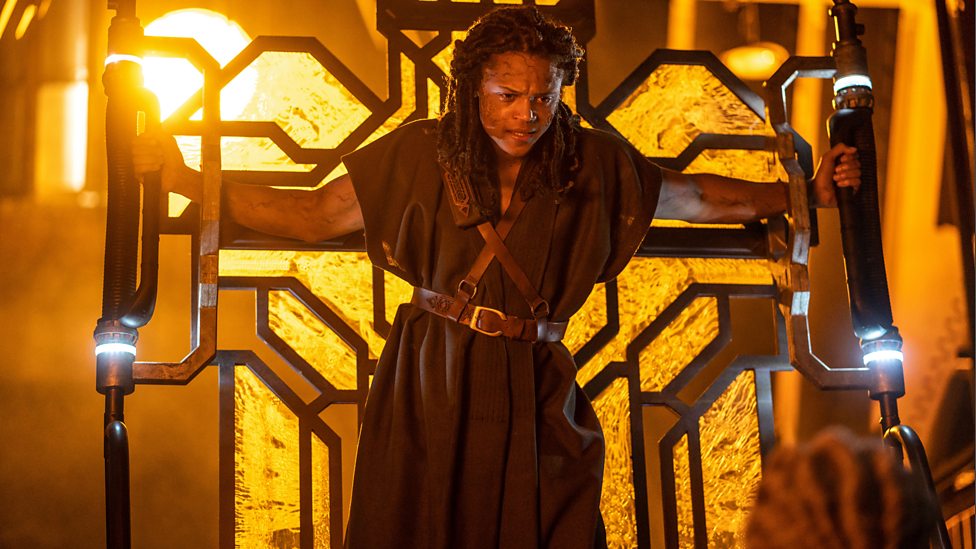 And that lack of gravitas is the problem with The Battle of Rather Have Colonoscopy as a whole – with no tension, it's utterly boring. Not what you want from a finale. In this respect, it's possibly the worst final episode of post-2005 Doctor Who; while some of Moffat's made as little sense, at least they felt big, and had moments that kept you halfway to the front of your seat, if not at the edge. Even The Name of the Doctor had the John Hurt reveal. Here, Chibnall seems averse to making us give a shit about anything. The Doctor's task in the climax of this, the final episode of the series, is to put some planets that are already dead back in their orbits. Why?
Chris Chibnall confuses me. Sometimes he's really on it – Broadchurch Series 1 and 3, for example, and there were some good decisions made in the run-up to this series, not least the casting of Jodie Whittaker and excellent choices of guest writers. But sometimes, he does Broadchurch Series 2, or Camelot, or this piece of P'ting shit. Perhaps he's a worse writer under pressure – I've heard that Broadchurch Series 2 was rushed into production by the BBC, and that he struggled with being thrown into the showrunner role on Camelot – in which case, this may not be the job for him.
The BBC announced shortly after the episode finished broadcasting that Series 12 won't be coming next year, but in early 2020. That's a well timed decision, as after such a dire finale, it's difficult to be eager for more. But it also might be a good decision; let's hope the extra time allows Chibnall to do at least second drafts this time round.
DOCTOR WHO SERIES 11 RANKING
The Bottle of Rick Astley's Cum
Saturday, 8 December 2018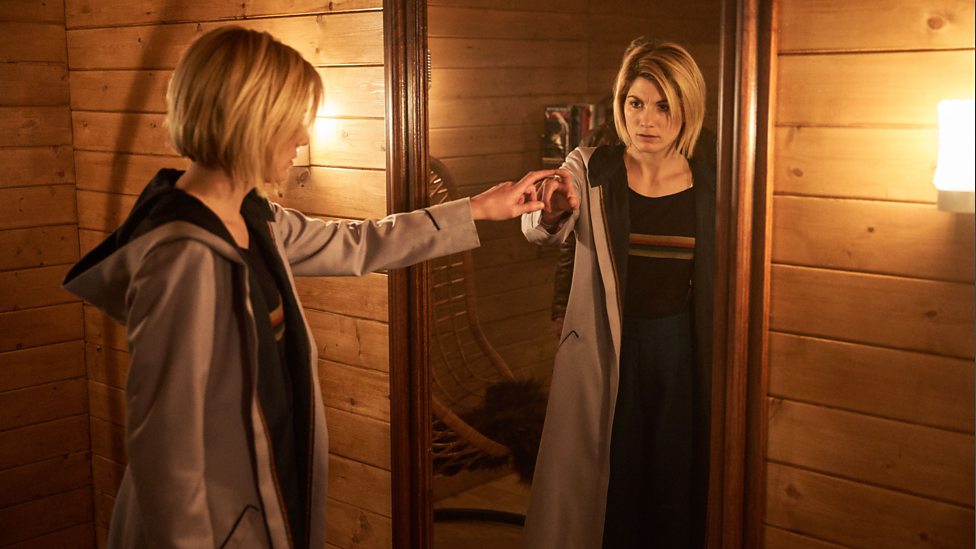 I'll put my cards on the table right away and say I love it when Doctor Who goes full-on 'frog universe' level weird. This was especially enjoyable in Ed Hime's It Takes You Away as it came as a surprise, at the tail end of a series where episodes have tended to, for better or worse, do what it says on the tin.
This episode's trailer, as unfortunately vague as all the Series 11 marketing, pitched it as standard 'cabin in the woods' horror fare, a trope which is worn out in horror films that are for an adult audience and therefore allowed to be actually scary and which I wasn't particularly enthused to see a toned-down Doctor Who take on. But it turns out there's a whole lot more going on inside this tin.
It's an episode built around turns that take the story in completely different directions – from that cabin the woods we're taken to a hellish cavern more delightfully alien and grotesque than anywhere we've been this series, and from there to a whole different universe, before culminating in a void with a frog on a chair. At any point in this plot, there's no way you could predict where it'll be in ten minutes' time.
And yet, it all flows so well, due to the very sharp focus in its character stories. It's a style reminiscent of Steven Moffat's
Who
at its best – plots which similarly ran off on unexpected tangents with big sci-fi concepts but which were unified by their solid character focus. I say 'at its best' because it's an approach that went wrong for Moffat as often as it worked. Here it works; with the missing father, the dead mother, the return of Grace, and the unspoken issue of Ryan's father, this is an episode about absent family members, and that's a thread that carries us through the surreality, like the string the Doctor uses as a guide through the caverns. Graham's scenes with 'Grace' are heartfelt, and pairing Ryan up with another abandoned child works well to reflect his own issues.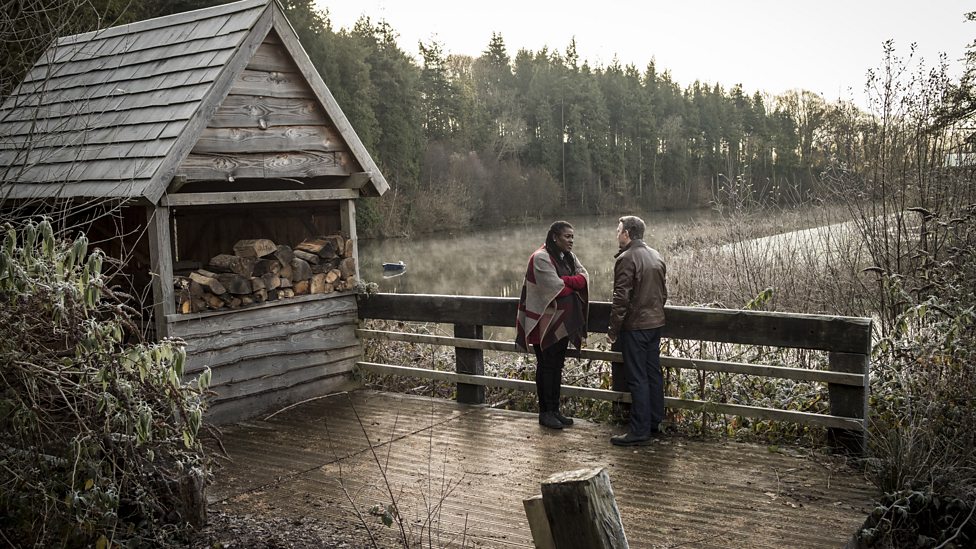 There is a hint of Chibnall's style too, in that stories this season have tended towards the procedural solving of mysteries, and the red herring with the 'monster' is a perfect example of that. It's nicely worked into the plot – set up but you don't see it coming – while also tying into that deeper theme. But it also leads into what's missing from the conclusion: Erik is forgiven for his poor treatment of Hanne very quickly, and it's a shame he never gets any dialogue with Ryan, who presumably has some harsh words to say to a runaway father; a confrontation between the two seems like a necessary beat towards the end but it's skipped over.
While it's Ryan and Graham's story, this is also a great episode to show off Jodie Whittaker's Doctor, perhaps largely because the climax is a show of compassion from her towards the Solitract rather than a confrontation, which plays to her strengths. That said, this is, I think, the first episode in which this Doctor has been put at odds with a companion, and both Whittaker and Bradley Walsh really shine in their argument outside the portal. If the next episode actually wants to feel like a series finale, though, this Doctor might actually have to confront some villains for once, so we'll see how that goes. Meanwhile, Yaz is sidelined as usual, but at least her approach to Hanne feels like a solid and not superficial use of her police trainee backstory, with the additional purpose of highlighting Ryan's awkwardness.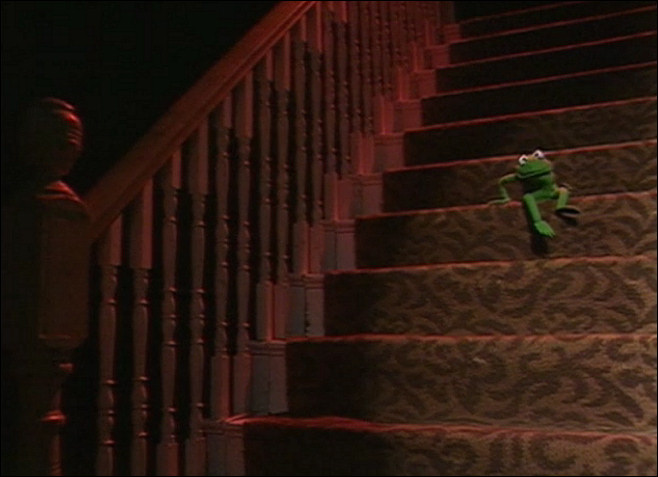 And then we have a universe in the body of a frog. A frog universe! That's wonderfully 'only Doctor Who would do this' in its combination of the everyday and the enormous. And no, I don't care that the animatronic is a bit shit.
It Takes You Away is the biggest surprise of Series 11, as well as the boldest episode with the possible exception of Rosa, and all the better for it. While Rosa felt like Chris Chibnall's approach to Who but done really well, It Takes You Away brings to mind qualities some of the show's best writers of past – the emotional resonance of a Russell T Davies script, the thrillingly pivoting plots of Moffat, and a bonkers ending that Douglas Adams would be proud of. It's also quite Neil Gaiman-esque in its big sci-fantasy idea with an emotional punch – a god looking for a friend. What I'm saying is, Ed Hime can come back next series, please.
DOCTOR WHO SERIES 11 RANKING
It Takes You Away