Tuesday, 6 November 2018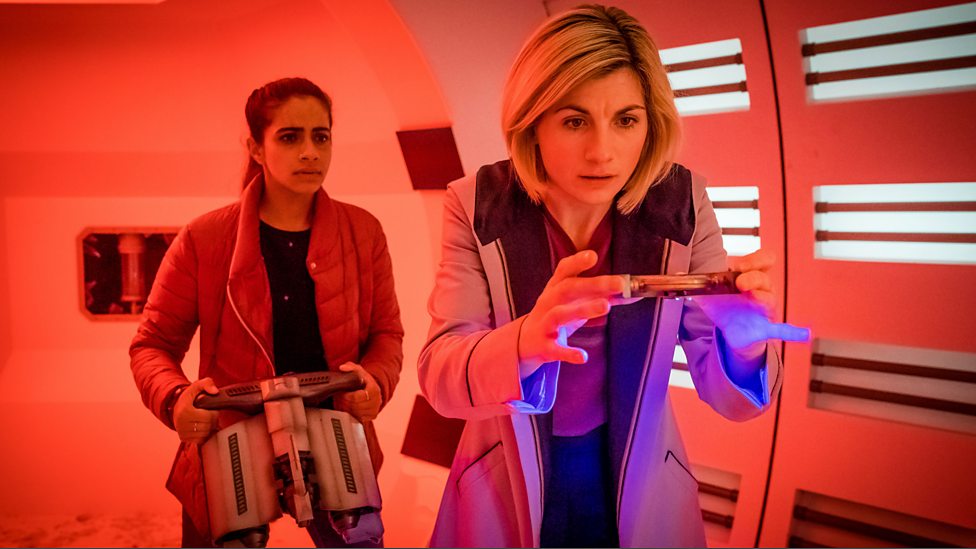 "It could have been a lot better. It could have been slightly better written ... it's very routine running up and down corridors and silly monsters. It was perhaps a little too routine Doctor Who, very much what the audience was expecting, it's not really very challenging for them to watch. ... Fairly mullllaaahhhh boring." – a representative of the Doctor Who Appreciation Society critiques The Trial of a Time Lord on the BBC's public opinion show Open Air, 1986.
I was surprised when I looked on Twitter after The Tsuranga Conundrum by how negative the general reaction among the fandom to it was. I hadn't loved it, but I'd certainly enjoyed it.
A lot of the criticisms revolve around talkiness and lack of tension. Having rewatched to see where all of this was coming from, yeah, in some cases that's fair, there are a few dumpster trucks of exposition unloaded. In particular, the discussion of Ryan's parents is very much a "we're doing some character development now" scene, static and forced, distanced from the danger the ship's in.
In other cases, I understand the criticisms but don't feel them. Yeah, the Doctor explaining the details of antimatter is extraneous to the plot, but Jodie Whittaker's delivery is so joyful! I like it both because it shows her growing confidence in the role – she seems to have got better as the series has progressed – and because of the message sent by having the Doctor be in such awe at science that for once isn't completely made up.
But for sure the thing I like most about The Tsuranga Conundrum is the Pting. Doctor Who has rarely attempted the Gremlins and Tribbles style of 'cute but surprisingly dangerous' alien, and this little guy is a great addition to that tradition, with a charming bumblyness to the way it eats bits of spaceship and CGI as impressive as the show has ever had. It seems like a long while since Who's introduced a new species that I actually wanted to return, and I do want more Pting. Wouldn't it be great if the finale were Aliens to this episode's Alien? But we're sadly more likely to get Stenzas than Ptings.


It would have been nice to have seen more of it in this episode, in fact, though maybe that's down to CGI budgets, and the way the tension around it was built up could have been better, such as...
Actually...
Meh.
I could nitpick about the plot. I have done for every one of Chibnall's sole-credited episodes of this series. But I'm not going to. That's partly because it's half way through the series and I'm already growing bored of pointing out every little thing every week. And it's partly because I don't care, I liked the Pting, I had fun during the short times it was on screen, and I want one for Christmas.
And I think that points at the bigger problem, from which much of the dislike of The Tsuranga Conundrum stems. While the Pting brought an element of fun to its scenes, the writing elsewhere lacked that spark. Doctor Who under Russell T Davies had dodgy plotting too, but he had a skill of covering it up with laugh-out-loud wit and punchy character drama. Here, there are chuckles but rarely laughs; the character arcs are there but don't have the emotional precision to hit hard. (Steven Moffat, at his lower points, tended to the other extreme of having no plot at all and a tiresome stream of quirkiness.)
It's that wit and flair which makes the RTD (and Moffat at his higher points) episodes so rewatchable. So, while I did genuinely enjoy The Tsuranga Conundrum on first watch, when watching it a second time, I did get bored and let my attention drift. It's not in any way bad and I maintain that its critics are way too harsh, which kind of applies to this series as a whole; Doctor Who has undoubtedly lived through much worse times.
It's just...
"a little too routine Doctor Who"
. Which is awkward, because, for those of you who didn't know this was coming, that representative of the Appreciation Society was a young Chris Chibnall. Look at his silly '80s hair:
(I know, as that video title shows, I'm not the first person to make the joke of applying his comments to his own episodes. Someone else made it with Tsuranga on Twitter Sunday night, but I can't find the tweet to credit them.)


By far the strongest episode of the series so far, and the least routine, has been the one Malorie Blackman co-wrote, and it's not the greatest sign that I'm looking forward most to the guest-written stories. But on the plus side, it is genuinely exciting that the next four episodes will be from voices new to
Doctor Who
, and it would be however good Chibnall's episodes were. Fingers crossed for Vinay Patel's episode being another good'un.
DOCTOR WHO SERIES 11 RANKING
The Tsuranga Conundrum